I have been a terrible person and not updated in about two and a half weeks. How dare I?! I swear I have not forgotten about Latinitas its just that I'm too tired after work and all I want to do is, well, nothing. So...since I have been neglecting this blog I will make it up by doing this one not only super awesome but doing it with GIFS and pictures!!!!! Yes, I know you must be as excited about reading it as I am about writing it. Ready? OK, lets get to it.
Going back and reading my last blog I realize how much has gone by without me telling you guys. I went to my first PRIDE parade June 9th. Let me just say it was AWESOME. Not only are people super nice, they are crazy fun!!!
I made some new friends there. They are lovely girls and they were all telling me their stories on when and how they told their parents they were gay. It was very eye opening, not only because this isn't really something people talk about in El Paso but because they are comfortable with themselves and it is just a lovely thing to see. It's nice to see love has no boundaries. After the parade we went to a block party and then a barbeque. I swear that day was exhausting but one of the best I've had here so far. (I'm pretty sure I'll be saying that a lot as the time goes by but its OK) Oh goodness I must tell you all about the brownie pops (like cake pops) that I had at the barbeque. I've been trying to watch what I eat, just like every girl does cuz you know that's how we roll but those were like Heaven in my mouth. I swear I had more than I should have but it had to be done.
Moving on to boys. They're all dumb. The end.
That was not nice of me so I will try to start over. Boys smell. Boys are useless. Boys give me headaches and unwanted heartache.Boys are boys. The long distance is getting to me a little bit because I don't get to see the boy at all this summer and its frustrating. Which I'm not saying a girl needs a guy to be happy but you know sometimes a girl needs someone to give her compliments and make her feel pretty. Paul, definitely knows how to do that. Blah! Confused Karen is confused.
Anyway given the fact that this blog is titled work family I suppose I should get to it and actually talk about what I'm supposed to. By popular demand (cough cough Sonia) I will introduce you all to my YouthTrade family. These are the people that I spend my weekdays with and I really wouldn't expect to have a better group. I will try and describe them so you can have a sense of how they are. Introducing my new boss Poonam.
I have no words to describe this amazing human being. She is incredible, funny, passionate about her work, family and everyone around her. She is the most extraordinary person I have ever met. I'm not even kidding, I'm extremely honored to know her. You guys would love her.
Next up is the first person I met when I got to YouthTrade and my favorite quiet girl. Saatvik and JJ.
 I must say Saatvik is one of the funniest guys I have ever met. This kid is just awesome. Thus the reason why when they paired us up we decided to be called Team Awesome (because you know, we are). JJ is sweet. Super hard worker and puts everyone to shame. Also, she likes to tell me that my hair is sexy when its curled and that my skin color is her favorite. I don't judge I just laugh at her very unique compliments. =)
Next up is fellow interns Brianna and Arthur.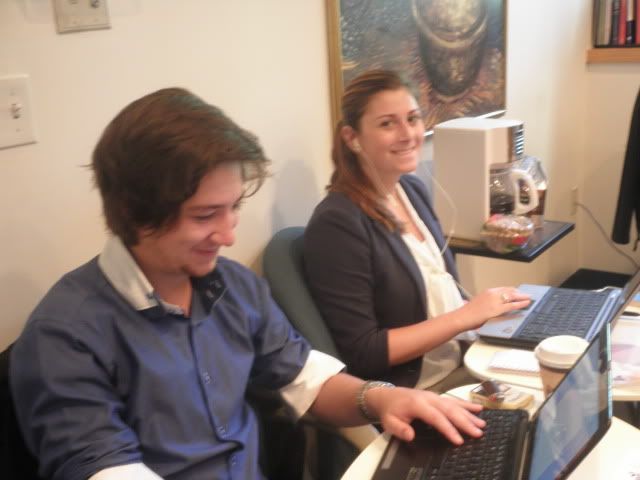 Brianna is the sweetest. She has this attitude about her that I want. She is a go getter and doesn't take no for an answer. Latinitas would probably use her when they wanted something and they were telling us no. She will make them say yes. That's why I love her. No one says no to her. Arthur is our french speaking intern. He's from France what else do you need to know?
The nicest girls in the office. Anika and Riya.
Aside from being beautiful, you can talk to them for hours about anything and everything. They are the best people to vent to, no joke. They're also super smart so what else can you want in a girl? Yeah, girl power!
Last but not least is MVP Vishal.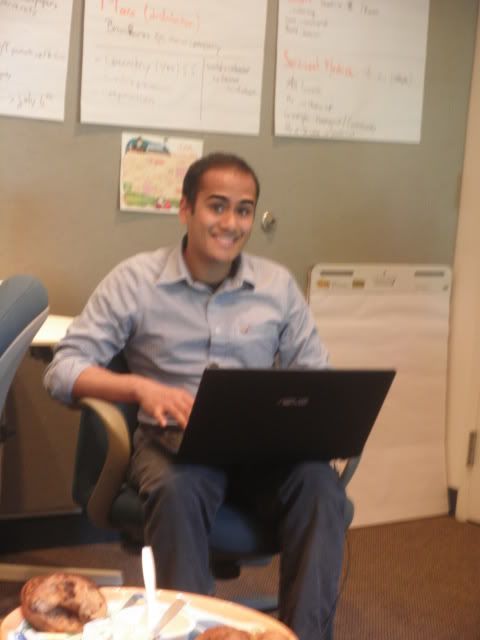 Without him, we'd be nothing. That's it. Theirs nothing else to say about him. He's MVP for a reason. For being AWESOME. On a totally different level awesome.
I've told you everything I need to say. I've introduced you to my Boston family, I have told you about some of the adventures I've had and as much as I'm trying to remember anything else nothing is coming to mind. I love the people here, I love the friendliness, I love Boston.
Until next time,
An adventurous Latinita