Ok college chicas we all know what's lingering around the corner, the dreaded finals weeks! Personally I don't think I have been through a more stressful time in my life! Late nights, nerves and a whole lot of caffeine! One thing I have noticed though is that my healthy eating habits go out the window during finals week. My diet mostly consists of coffee, snickers, hot cheetos and a bunch of other things I am too ashamed to mention! I'm sure that I'm not the only one either. 
But loading up on junk food can have some very negative effects on your body. Sure, caffeine is great if you need a quick burst of energy but watch out for the crash later! Eating the right foods during finals week can make you more attentive and even boost your mood! So to help make your finals week a little easier to endure I'm sharing some great ideas for healthier study snacks! Enjoy and good luck during finals ladies!
Veggie Dippers
http://mandeefofandee.blogspot.com/2011/08/pinterest-challenge.html
Cored sliced apples with peanut butter, oats, nuts, and chocolate chip
http://keepyourdietreal.com/food/news/20-quick-and-healthy-snacks/
Grapes and Grahams
http://www.laurenconrad.com/post/slim-tip-surviving-the-snack-attack
Stawberry and Cream Cheese Sandwich
http://www.eatingwell.com/recipes/strawberry_cream_cheese_sandwich....
Chocolate Dipped Nuts
http://www.goodlifeeats.com/2012/04/chocolate-dipped-nuts.html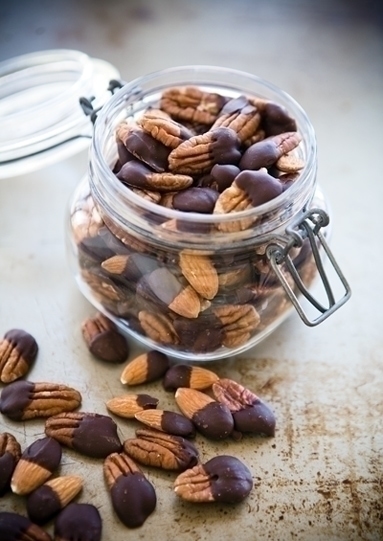 Tropical Fruit Kabobs
http://www.muybuenocookbook.com/2011/08/tropical-fruit-kabobs/