After arriving at the closet size room I had to share with three other girls, I quickly took the bottom bunk because I tend to fall off beds. After awkwardly meeting my Non-English speaking roommates, I walked around and met the other American students.We made our way to where we would be tutoring in English and explored the campus. I was surprised to see the university had it's own glasses/contacts store, convenient stores, coffee shops, etc. 
I absolutely loved it! We went down the street to the first restaurant we could find and realized everything was in Korean. I pointed to something random on the menu that had no picture and hoped for the best. I ended up ordering 오므라이스 (Omurice), a dish that originates from Japan. It's basically an omelette with rice. My friend ordered a traditional Korean dish called Naengmyeon. (Cold noodles) YES! People eat cold noodles in the summer! 
Though it looked like a regular omelette, the culture shock caused me to reject all the food. My throat closed up and would refuse to swallow any type of food. This happened for about two weeks and my friends had to pin me down and force feed me because my own body would not let me eat. Keep in mind, this doesn't happen to everyone. I am a very picky and delicate person, so it was natural that my body reacted that way. After I started getting better, we found ourselves going to the best Dak Galbi (marinated chicken with pepper paste) restaurant ever! The meal was only less than 8,000 won (7 dollars)! 
In every street in Korea, there are about 10 coffee shops people can choose from.One of my favorites was Angel-in-us Coffee.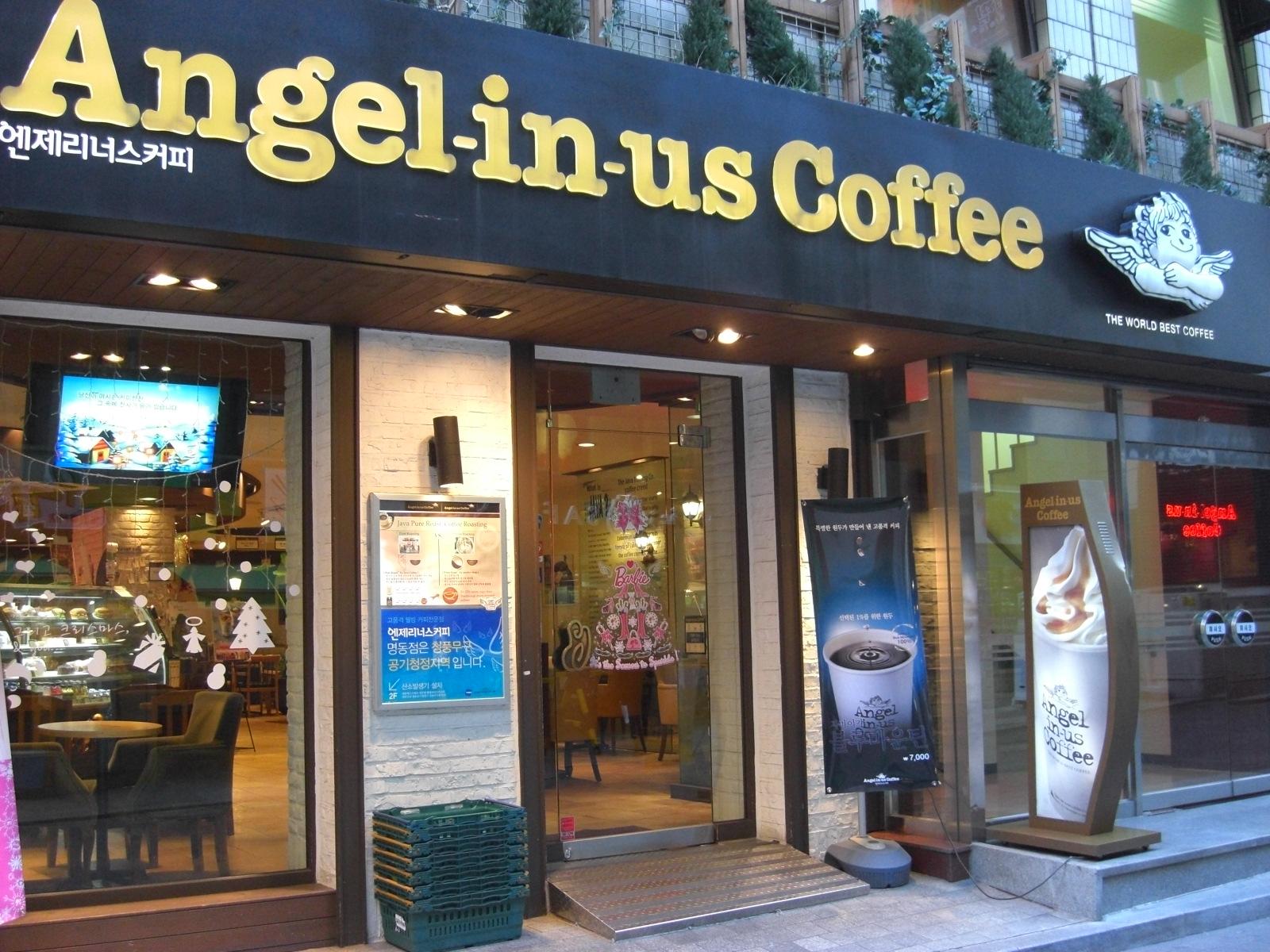 I was very addicted to the Caramel Macchiato.
Pretty soon I was adapting to the public transportation in Korea. (Mostly subway and bus) I could get to anywhere I wanted in Seoul by taking the subway. I'd often find myself lost and alone, but found my way back by learning on my own. Most of the time the American students would have a Korean student helping them out. I decided that I would rather travel alone and had so many random adventures. Of course, it is up to you how you want to travel and with who. Every single time I'd have an adventure, I'd meet a new person. Korea is a very safe country so I found myself meeting many  people from all over the world. After I finally found my way around Korea, it was time to go shopping! 
-To Be Continue-